THE

 DUAL EFFECT OF 

WINBACK
1.  METABOLIC ACTIVATOR
 WINBACK energy speeds up the metabolism and enables a cellular regeneration focused on the muscles and/or joints.
2. CIRCULATORY ACTIVATOR
By producing localised heat (diathermy), WINBACK energy stimulates both vascular and lymphatic circulation.
1
TENSIONS IN MUSCLES AND TENDONS ARE REMOVED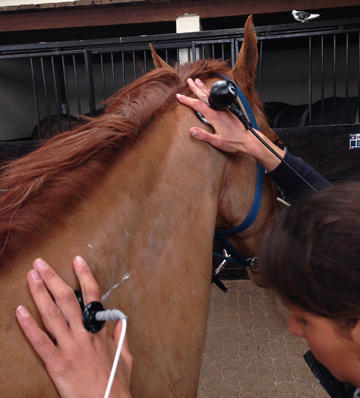 2
RANGE OF MOTION IS RESTORED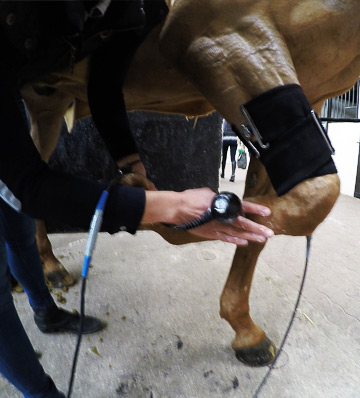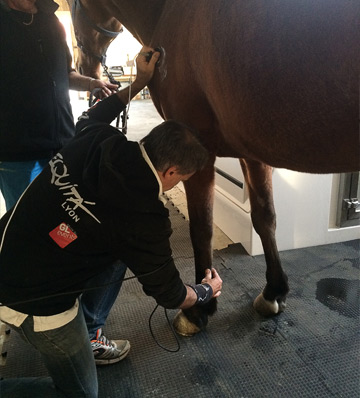 WINBACK Energy is a high-frequency oscillating current at 300 kHz and 500 kHz. It accelerates the "natural regeneration" of biological tissues. Its low-intensity is completely non-invasive and 100% natural for the horse.
THE UNIQUE WINBACK SIGNATURE
WINBACK is ideal for the treatment of muscle and tendon tissue giving a relaxing and releasing effect.
Winback also promotes the natural mechanisms of tissue detoxification in competition horses and an acceleration of the vascular and lymphatic systems.
When combined with WINBACK energy, massage given by the equine therapist is more effective and quickly deals with contractures, fibrosis and oedema.
After a competition, a deep massage with the WINBACK equipment effectively relaxes the muscles and tendons which have been worked hard. This stimulating and relaxing treatment allows the biomechanical structure to return to normal more quickly.
AREAS OF USE
Muscles : tensions, pains, tears
Tendons and ligaments : tendinitis, sprains.
Joints : arthrosis, back pain.
Systemic : oedema, engorgement.
Health – Relaxation – Wellbeing – Performance
WINBACK enables the treatment of various soft tissue pathologies (muscle, fascia, …) but also hard tissues (tendons, ligaments, joints, bone).
Rehabilitation : WINBACK is useful in rehabilitation and in the recovery of multiple pathologies of both muscles and joints.
Preparation and recovery : WINBACK can be used as a tool to enhance recovery and physical preparation  (intense training and competition)
Wellbeing : WINBACK allows the therapist to deliver deep massages thus releasing muscle chains and providing immediate wellbeing.